How to measure for a collar:
The best way to measure your dog is using a soft tape measure. If you do not have one you can use a piece or string (or shoe lace) around the dog's neck and head and then measure the length of the string with a ruler.
Measurement A: Around the widest part of the head. This is essential for house collars and martingale collars as these will slip over the dogs head and do not open
Measurement B: Behind the ears around the thinnest part of the neck.
Measurement C: Around the base of the neck at the widest point where the collar will sit. Use this measurement when choosing a braided tag collar
Collars are adjustable so when ordering choose the size that fits best with all these measurements. If you require smaller or larger collars then you can request these when ordering via the Create your Own Collar listings by selecting 'other neck size' and specifying your requirements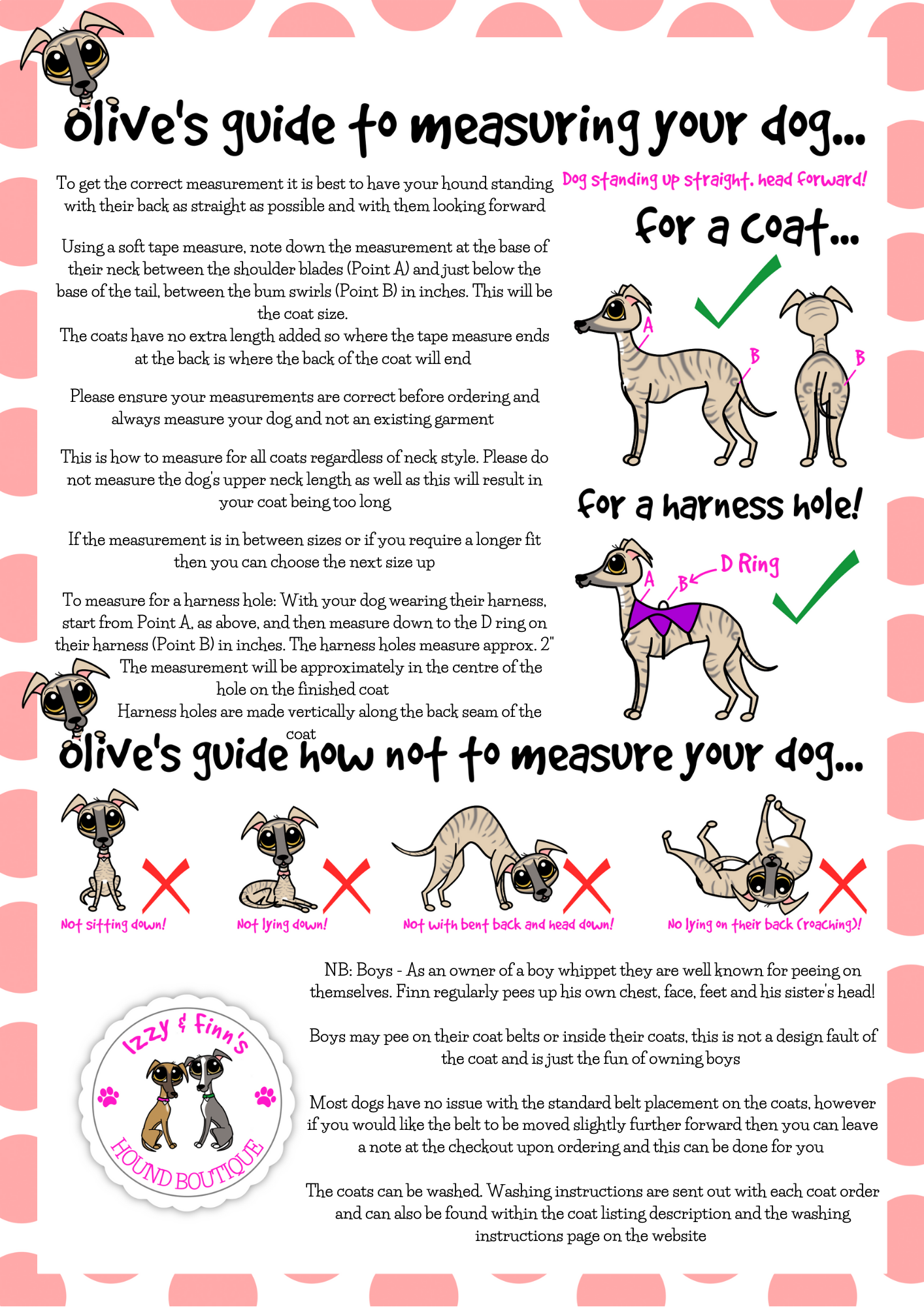 How to measure for jammies and tankies:
Chest Measurement: Measure the circumference around the deepest part of the chest in inches loosely around the chest
Back Measurement: The same as when measuring for a coat. Using a soft tape measure note down the measurement between the shoulder blades to the base of the tail in inches
Neck Measurement: Measure the circumference around the widest part of the neck in inches
To measure for a harness hole for fleece tankies start from Point A, which will be the bottom of the snood neck of the tankie, and down to where the D ring of the harness is. The harness holes measure approx. 2 inches and your measurement will then be approximately the centre of the hole


Refer to the size guide table in the jammies and tankies listings to confirm the size required. Please Do Not Measure an existing garment, you must measure your dog